Beautiful Memories
As Professional Ballarat Wedding Photographers, we are honoured to be able to share in the Beautiful Memories that are regularly created on your Wedding Day.
Ballarat Photography has photographed hundreds of Ballarat weddings, we have been privileged to be able to experience these wonderful events where we see amazing emotional moments and they are always unforgettable.
From the happiest events to the saddest – all these happen on a wedding day.
Many many times I have been thankful to have had the camera in hand to hide the tears..................
Matty & Alleena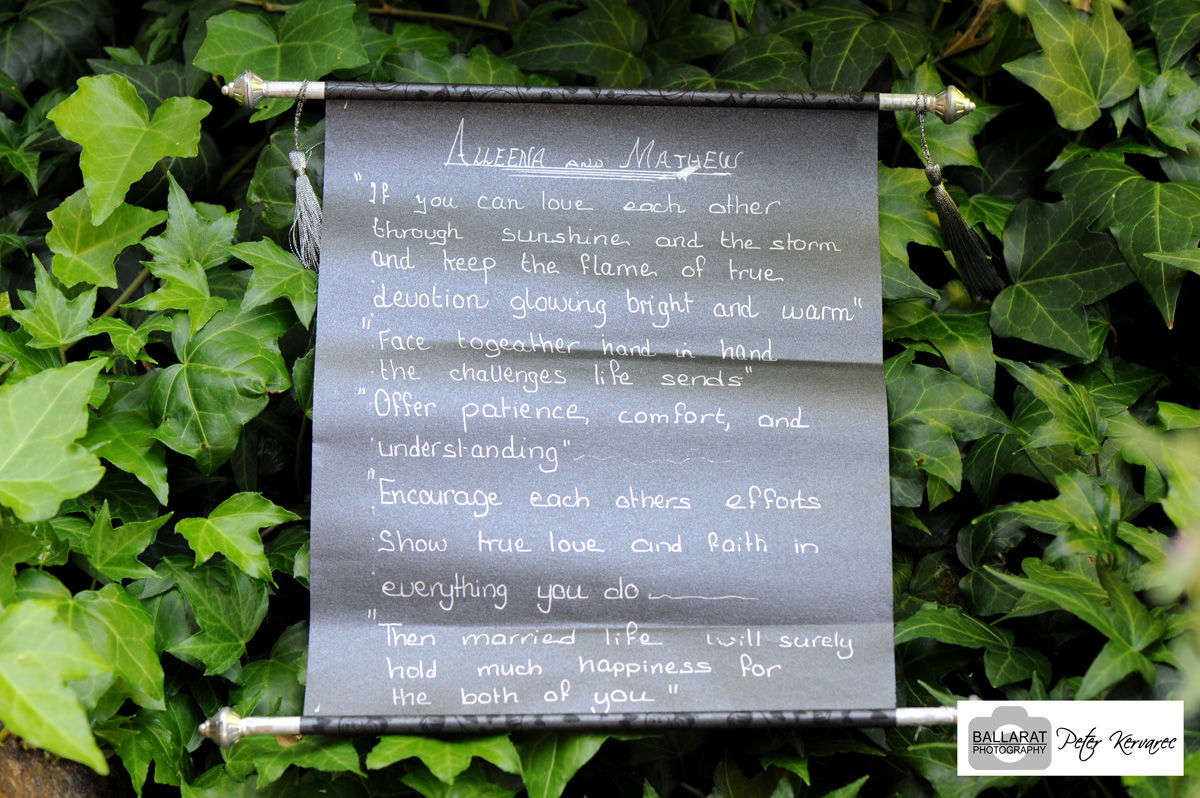 This particular Beautiful Wedding Memory is from a few years back when we had a gorgeous couple who had a surprise wedding at the Golden City Hotel or GC's as its locally known.
The couple, Matty and Alleena - Matty, a builder and Alleena, an airline hostess were school sweethearts.
They had their photos before the wedding and the guests arrived for what they thought was an anniversary party. GCs has a lovely old balcony upstairs and the guests were all looking down when Matty and Alleena arrived right outside the door with guests receiving the surprise of their life - it was an exciting event.
See some images below in the Wedding Photo Gallery.
Dawn & Jack
This Beautiful Memory is not from a wedding that we photographed but is from a Ballarat wedding that took place in 1959 and I call it the "Greatest love story never told".
I received a phone call recently and on the other end of the line was an elderly lady who wanted some of her wedding images restored and reframed.
I duly agreed and arrived at her place to meet Dawn, still bright eyed and bushy tailed at 80 and a very lovely lady. Her husband had died about 10 years earlier.
These beautiful hand coloured Black and Whites were taken by a master photographer using a large format camera and film. They were hand coloured at the studio and the mounts were signed personally by the photographer. Such pride!
Anyway I agreed to restore and repair the images and have them reframed for her and it was during our conversation that she told me about her husband "Jackie".
"We were so in love that I have never been able to get over his death."
Jack left a poem with a short note at the bottom for Dawn, to be given to her after he died.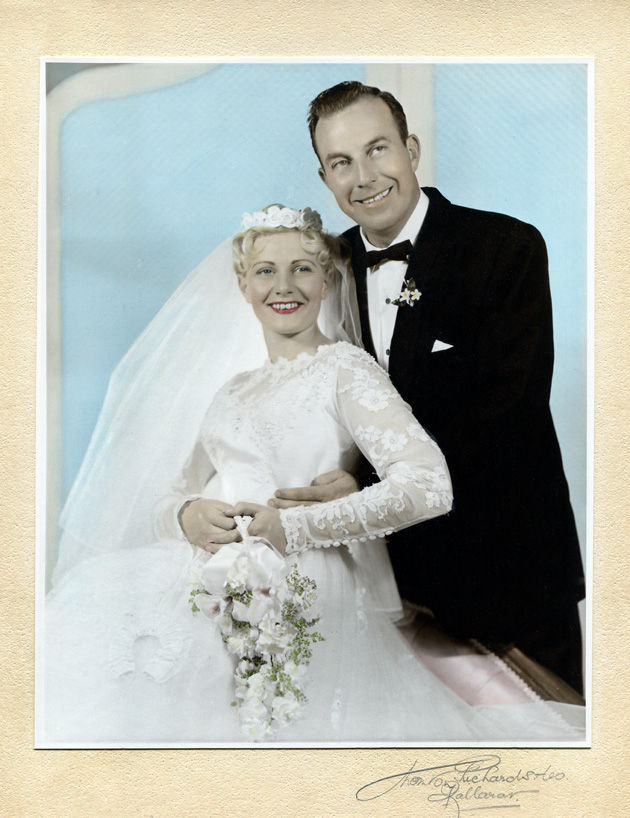 "When I Must Leave You" by Helen Steiner Rice
When I must leave you For a little while
Please do not grieve And shed wild tears
And hug your sorrow to you Through the years,

But start out bravely With a gallant smile;
And for my sake And for my name
Live on and do All things the same,

Feed not your loneliness On empty days,
But fill each waking hour In useful ways,

Reach out your hand In comfort and in cheer
And in turn I will comfort you And hold you near;

And never, never Be afraid to die
For I am waiting for you in the sky!
Jack's nickname for Dawn was Maddy and below this poem he wrote:
"To my darling Maddy, Love your darling Jackie xx"
Dawn also said that Jack would always hold her hand wherever they went, open the car door for her and always look after her.
"He was absolutely wonderful, he looked after me like a princess" says Dawn who was holding Jacks hand when he passed from this world.
"It broke my heart when he died."
"We had the happiest life a girl could ever wish for, we travelled, we partied, we loved, we laughed and we entertained."
Dawn told me that she holds a picture of Jack in her hand and says a prayer to him every night when she goes to bed.
Jack and Dawn met when she was 13 and Jack used to "come up from Melbourne to visit her brother" she says. Jack was 22 at the time and Dawn said that she always liked him, even from that early age because of his lovely nature.
Eventually about 12 years later, they became engaged.
Dawn and Jack were married on 14th November 1959 and were married for 44 years until his death. Dawn celebrating her 80th birthday in 2014.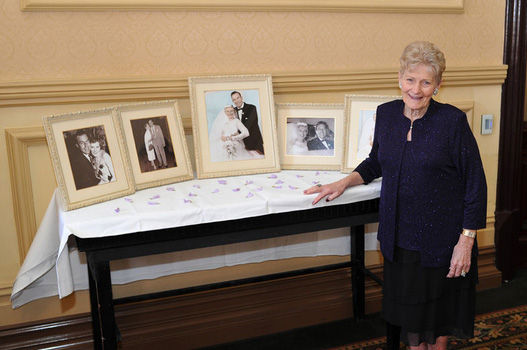 Dawn celebrating her 80th birthday in 2014.