Commercial
Ballarat Photography are Commercial Photographers specializing in all types of commercial, media, seminar, conference and event photography.
Any questions ? Please call for professional advice and service 0417 052 128 Or email me now: peter@ballaratphotography.com.au
I am a Commercial Photographer working in Ballarat, Melbourne, Geelong and all areas of Victoria. As a trusted Ballarat photographer, I can photograph your event, media launch, corporate function, presentation or group. Hand me your photographic brief and relax, I will take care of the whole process from planning, contacts and great images to having the images press, web and print ready as soon as you need them at your required specifications.
We have a full suite of lenses for every situation and cameras with huge resolution if required along with all the specialised equipment to meet your requirements.
Ballarat Photography is well known right throughout Victoria as top class Commercial Photographers with most of our work being via recommendations or by word of mouth, WOM.
Corporate | Events | Media Coverage | High End Real Estate | Mining | Industrial | Website Images | Business | Confidential | Magazine | Seminar | Veterinary | Medical | Brochure | Submissions | Aerial | Staff Photo |
See below for extensive client list and gallery examples.
Australian Federal Government
Victorian State Government
Telstra
Optus
Australia Post
Powercor Victoria
Ambulance Victoria
ESTA (Emergency Services Telecommunications Authority)
3M Welding AB Sweden (Industry Safety Equipment)
Pacific Hydro (Energy and Windfarms)
Meridian Energy (Energy and Windfarms)
Acciona Energy (Energy and Windfarms)
Enhar Sustainable Energy Consultants
National Rural Industries Association (Australian Government)
National Relay Service (Australian Government)
Department of Communications (Australian Government)
Workskills Australia
Sports Medicine Australia
Rabobank
Commerce Ballarat
National Australia Bank
ANZ Bank
MECU
Vinidex (Pipes)
Elders Real Estate
Ballarat Veterinary Practice
Education Dept Victoria
Lihir Gold
SMS Mining
SEM Fire and Rescue
Ballarat Audi
Genovese Coffee
Maxitrans
South West TAFE
Full Bore Blast and Drill
Advanced Cranes
Mansfield Constructions
Identitech
SMS Construct
Lifestyle Pools
Cultured Stone
Three Troupers Beer
Ryan Carlisle Thomas Lawyers
Slater & Gordon Lawyers
London Traveller Magazine
Australian Photography
and dozens of smaller businesses and individuals.
Ballarat Photography provides a complete photography service for our corporate and business clients with a fast turn around of images if required and we are usually available for your photographic needs at short notice.
We can talk with you and give you the best advice using a range of software to plan your photo shoot for the best possible outcomes.
As per the Home page, we are fully equipped with safety workwear and are familiar with workplace safety protocol.
We are happy to be inducted at your workplace.
Our main commercial photographic work focuses on:
Staff Photography ( On site saving you time and money and ensuring uniform background )
Event and Media Photography ( years of experience in Seminar, Conference, Events and Media Photography )
Website, Brochure and Branding Photography
Mining and Industry Photography and worksites
Architectural, Business and Real Estate Photography
Medical and Veterinary Photography
Aerial Photography
Confidential Litigation Photography for various legal firms including injuries, accidents and property damage.
Specialist Panoramic images & Photography for submissions and applications, including compass bearings, GPS locations and other technical information.
Shopping Centre, Wall and Home Banners to brighten up plain walls, create a unique mood, generate interest and add excitement and colour to an empty space. We can use images that are sentimental or a location or place that you prefer in the local area.

This 27 Metres long by 3 metres high wall banner image was commissioned by Stockland Wendouree Village Shopping Centre,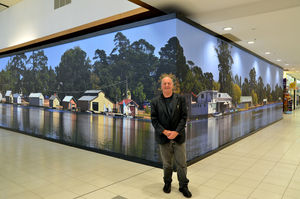 This image gives a good sense of scale. Shopping centre image at Safeway, Stocklands Ballarat Wendouree.
Having listed the above types of photography, we have also photographed just about everything so feel free to call.
To save precious time, we can also liaise with your graphic designer or designated person so that you can get on with business.
All our packages come with edited, high resolution jpeg or tiff files or raw files and images that are email ready if requested.
Images can be supplied on disc, USB, via FTP or web based such as Dropbox.
We can shoot day or night and do travel all over Victoria.