Historical
Old Ballarat photography ranging from Eureka to Ballarat mining to gold and street scenes.
Any questions ? Please call for professional advice and service 0417 052 128 Or email me now: peter@ballaratphotography.com.au
We have a generous library of old Ballarat photographs and images from all eras and featuring all aspects of life in and around Ballarat as well as some lovely images from other areas.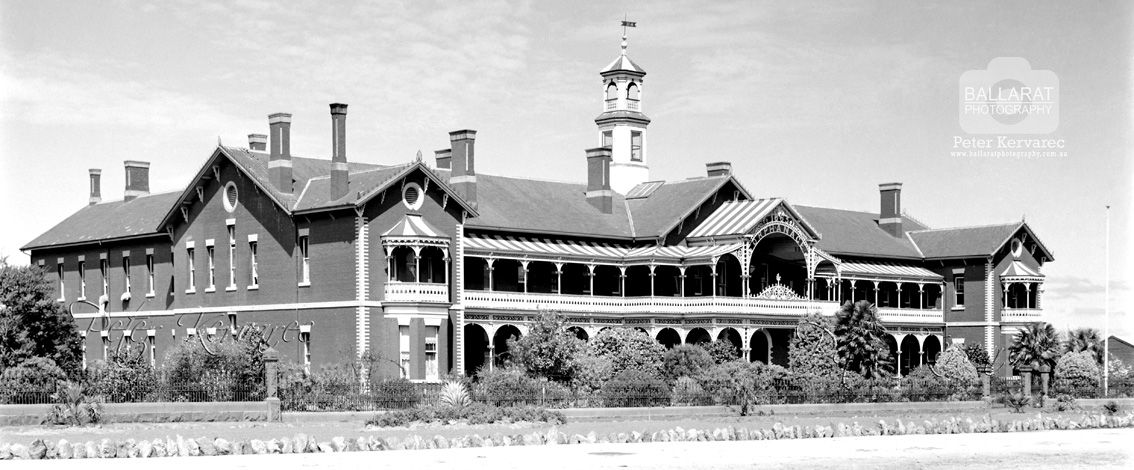 The absolutely gorgeous Ballarat Orphanage that graced the main entrance to Ballarat at the corner of Stawell and Victoria Sts (Melbourne Rd).
"Progressive" councils of the time (1960s & 1970s) took it upon themselves to demolish many of Ballarat's heritage buildings. The Ballarat Orphanage was a fantastic example of Victorian Architecture and was adorned from head to toe with Cast Iron lacework, verandah posts and rich balustrades. Many of Ballarat's precious Victorian era buildings were demolished and all cast iron Victorian verandahs and posts were removed from shops and buildings mainly in Sturt St and Bridge St. Trams were also removed and Bridge St was turned into a "mall".
Many Victorian buildings were replaced with tasteless, sterile and bland shops that were also ordered to have cantilever verandahs.

Luckily, images still remain of these once amazing buildings - the likes of which will never be seen again. These buildings were a direct product of Ballarat's rich gold history - Ballarat was awash with money thanks to its gold mines being some of the richest on Earth and with the purest content in the world.

A Birds Eye View of Ballaarat, an extremely finely detailed hand drawn panoramic lithograph by F W Niven of Ballaarat from the Post Office Tower and created for Australia's Centenary in 1888. Available at any length required. This image took one full week to restore and repair in Adobe Photoshop.

This lovely Ballarat image was taken at the corner of Peel St Nth and Shepherd St looking North. Photography was much more difficult in times gone by with a lot more consideration being given to light - film was very low ISO, unlike today where one can just dial in the optimum light sensitivity. This made standing still very important.

Ballarat figured prominently in the 1956 Olympic Games, with the Olympic Torch relay receiving a Civic Reception at the Ballarat City Hall at 6am on 22nd November 1956 where literally thousands watched and waited for the torch to arrive. With much fanfare, the torch arrived and departed for Geelong and these rare images show the Geelong highway at Buninyong and the Crown Hotel, Ballarat City Hall and other images taken along the way.